Welcome to IslandFit. Your decision to join the IslandFit community is a great first step towards improving your health and quality of life. Our mission is to provide each individual with the opportunity to exceed their fitness expectations. We can achieve this together by delivering exceptional training programs, affordable pricing, expert coaching and a supportive community. We are dedicated to helping you accomplish your fitness goals in a safe, fun and inclusive environment. Share the Love, and let's get to work.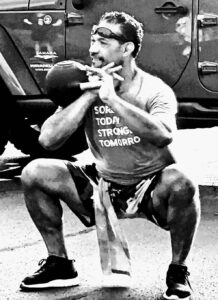 Eke the "Island Boy" is the CEO and co-founder of IslandFit. Eke grew up in Samoa, South Pacific, went to school in New Zealand and spent 9 years playing professional rugby in Kumamoto, Japan. He is a double rugby international representing both his home country of Samoa and his adopted country of Japan, which included playing in the 1991 Rugby World Cup for the Japanese National team. Eke has spent over two decades in the fitness industry fulfilling a variety of roles, working side by side on the floor with a team of fitness professionals, as well as at the executive and management level. He has a clear vision of the fitness industry and the unique ability to understand fitness trends which create fitness programs that deliver RESULTS. As a former professional athlete, he understands the importance of team work, accountability, and motivating each client or team member to be their BEST. Eke has trained a variety of individuals with different needs and goals, and has also coached and worked with different teams and groups such as firefighters and rugby teams. He is a certified personal trainer with ACSM, holds multiple certifications and has trained with FMS, TRX, Spinning, Cycling, Kettlebells, Battle Ropes, Stott Pilates, CRI, Escape fitness and Les Mills, among many others. He is CPR/AED certified and is trained with the Stop the Bleed protocols. Eke has a solid reputation of giving back to the community by volunteering and organizing a variety of fundraising events. He spends his time throughout each year recruiting and leading teams of different individuals to compete and participate in health-related initiatives such as Tour de Cure, Corporate Challenge, Fight for Air Climb and Tough Mudder, which benefit the community. He has successfully cultivated partnerships with other organizations such as the Alzheimer's Association, Parkinson's Foundation and other nonprofit communities and agencies to design and implement fitness and wellness related programs that raise awareness about the importance of regular exercising. Eke currently works with the Brighton and Mendon fire departments, providing their members with fitness workout routines, where he also discovered and invented a HIIT workout using old fire hoses. Eke enjoys cycling, standup paddling, traveling, spending time with his family and friends and visiting local breweries.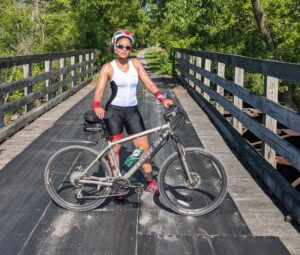 A native of Lackawanna, NY, Claudette, the "city girl" is the President and co-founder of IslandFit. Claudette was a track athlete in high school, participating in sprinting events. Her favorite event was the 400 meter run, where she claims that "it's the combination between speed, endurance and execution that yield results." She carried that mindset throughout high school and college where she graduated from RIT with a Bachelor's degree in Biotechnology. Claudette has spent the last two decades of her professional career working in laboratories and research centers. Claudette enjoys yoga, boxing and HIIT workouts, as well as cycling where she is a certified cycling coach with Keiser. She is CPR and AED certified, and a proud supporter and advocate of the Tour de Cure event in which she has partnered up with the local ADA chapter to promote the Rochester Tour de Cure fundraising event to support those who are affected by diabetes. Claudette's mission is to help others feel strong and fit, and live healthier and happy lives through exercise. In her spare time, she enjoys gardening, stand-up paddling, cooking, traveling or just sitting by the fire with a nice glass of wine enjoying family and friends.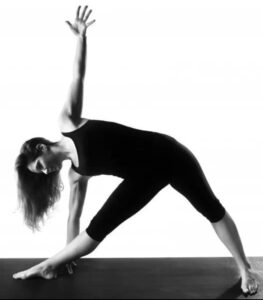 Becky grew up in Pulaski, NY and graduated from SUNY Cortland with a BA in Economics. She discovered yoga as a new Mom looking to find a way to relax and get fit. Now a mother of four with over 500 hours of training in philosophy, alignment, therapeutics, pranayama (breathing techniques) meditation, restorative yoga and almost 20 years of teaching experience. she feels that yoga can benefit everybody in so many wonderful ways. She also enjoys cycling both indoors and out. As a lifetime certified Spinning instructor, she loves to be in front of a room full of people riding hard and sweating it out on the bike. A big advocate of functional fitness, she holds several certifications in TRX and kettlebell training, and loves a good HIIT workout. She believes the point of life is to have a good time and thinks training should be part of the FUN.
FREQUENTLY ASKED QUESTIONS
What do I need to bring to class?
Please bring a pair of indoor running shoes or cycling shoes and a water bottle. Wear something that is comfortable and ready for you to sweat in. We also recommend that you bring a small towel for your workout.
Do you have lockers?
Yes. We have 12 lockers in each locker room; please bring your own lock.
Do you have showers?
Yes. We have shampoo and body wash. Please bring your own bath towel.
How do I sign up for classes?
You can sign up through our website www.islandfit.fit or with the WELLNESSLIVING achieve app.
How can I sign up for personal training?
Please contact Eke directly by either calling the studio at 585- 404-0076 or sending him an email at eke@islandfit.fit
What is your late policy?
Due to the high-intensity nature of the workouts, we strenuously urge all participants to arrive on time. If you arrive more than 5 minutes late, we reserve the right to deny entry into the class.
Can I stop in?
Yes. Please do but we may be teaching classes or training clients. If you would like a tour please contact us to schedule an appointment.
What is the best way to reach you?
You can leave a message by calling 585-404-0076 or send us an email at info@islandfit.fit and we will get back to you within 24 hours. We will be more than happy to arrange a time for you to visit the studio.
What are your hours?
As a new business, we are a lean mean machine. As a result, we are always open 60 minutes prior to and following class times (see our schedule). However, you might catch us at the studio doing private or team trainings. If you'd like to pop by outside of class times, please send us an email at info@islandfit.fit and we would be more than happy to arrange a time for you to visit the studio.
What is your cancellation policy?
We have quite a generous policy allowing you to cancel with no penalty or lost class up to four hours before your class time. Failure to cancel within the specified time frame will result in loss of that class.
How do I schedule a Hydromassage session?
You can schedule your sessions through the website and WELLNESSLIVING achieve App.
I'm new to exercise. Do you have a beginner class? Will I be able to keep up?
All levels are welcome to our classes. We recommend that you arrive 15 minutes early, and speak to the instructor before the class. Remember to eat and drink before and after your workout to help your body recover, and don't forget to recover with the hydromassage chairs!
What do I do if I'm having trouble signing into WELLNESSLIVING achieve App?
On the WELLNESSLIVING achieve App, you need to create a separate account before you can book classes. Click Sign Up! to create an account. Make sure you remember your password. The best way to remember your password is to click the Remember Me box. After you create your account, you will enter your credit card information and purchases and register for classes.
Where do I go to download the WELLNESSLIVING achieve App?
You can download the WELLNESSLIVING achieve App for free on the Apple App Store and the Google Play Store.